Written on Modified on
How adopting a centralised EV charging infrastructure can help reach net zero emissions ambitions.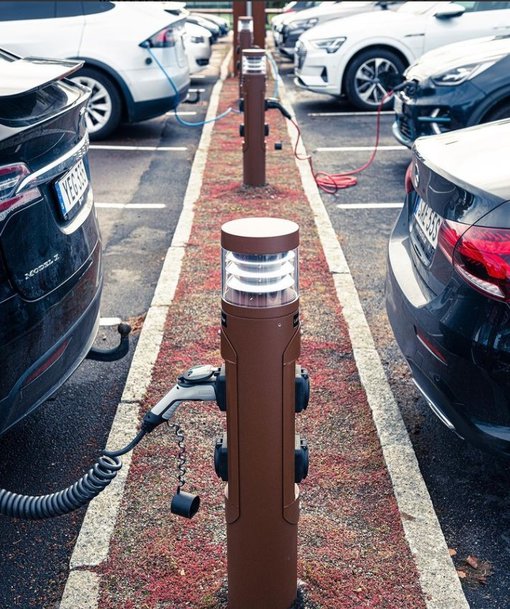 Despite the proposed £1.6 bn funding from the UK Government for more EV charging points, many people question whether electrification of our roads is enough to allow us to reach net zero emissions by 2050. Here Craig Burgess, head of proprietary products at cable and connector specialist PEI-Genesis, discusses why the UK should adopt the centralised EV charging infrastructure that is helping Scandinavian countries lead the EV revolution.
The Norwegian Road Traffic Information Council (OFV) estimates that 83.7 per cent of new vehicles registered in Norway in January 2022 were EVs. With nearly 17,000 public charging points distributed nationwide, Norway is a leader in the EV revolution and is on course to stop the sale of new petrol and diesel-fuelled cars by 2025.
If countries like the UK are to replicate this success, they must increase investment in centralised charging technology in car parks, community buildings, condominium parking and other public access areas.
Centralised EV charging solutions
Hotels and golf clubs in Sweden wanting to install multiple charging outlets in their carparks are put off by the infrastructural costs. Decentralised systems have a charging box in every bay and companies must install large underground power cables connecting the mains power supply to each charging box. Manual labour alone is extremely costly and, if people can't use the carpark because of groundwork taking place, this could negatively impact profitability further.
Arguably, this investment is worth it if its helps decarbonise our transportation network. However, centralised charging technology offers a more cost-effective, less disruptive alternative.
For centralised charging, the electrical components are all in one electrical cabinet, which feeds up to 36 individual charging outlets. Installing trunking or power bar technology, where a hollow rail runs in front of the parking bays housing a single power cable, allows the system to be scaled up to hundreds of charging outlets. Alternatively, outlets can be mounted in an aluminium profile on a wall or in lighting bollards, mitigating the need for costly groundwork.
Installation costs are not the only consideration when setting up a centralised EV infrastructure. If an outlet stops working and the charging point is not working, this could negatively impact business and companies may end up paying for technical support. Therefore, all charging outlets must have robust and reliable electrical connector assemblies to mitigate any risk of failure.
Finding one connector solution that fits all the criteria for EV charging can be difficult. For the adoption of EVs to be successful in every country, companies need connectors that can operate within wide temperature ranges and under a variety of environmental conditions.
The Sure-Seal IEC2 charging outlet can charge up to 22 kilowatt hours on an AC supply and consists of a one-piece moulded IP55 connector with multiple moisture seals. The sealing protects the contacts from water and steam ingress, and exposure to brake fluid, petrochemicals, ultraviolet and ozone. Furthermore, it can operate between -40 and 105 degrees Celsius under conditions of high humidity, excessive vibration, ice and mud. These properties combined give the charging outlet the versatility to function well in any climate.
Cost is often the prohibitive factor in building EV charging infrastructure. In a centralised system, multiple EVs share a single central charging cabinet. Therefore, the volume of expensive, sensitive electrical components is reduced. On a similar level, the Sure-Seal connector comprises of just two parts: the body and the electrical contacts. In the event they need replacing or more charging outlets are being built, installation is cost-effective and comes with the necessary technical support from your trusted supplier.
To find out more about PEI-Genesis' Sure-Seal brand of electrical connectors that are supporting the electrification of our roads, visit www.peigenesis.com/sure-seal.
https://i0.wp.com/sourceitright.us/wp-content/uploads/2022/10/60612-PEI103-image-Centralised-EV-charger.jpg?fit=510%2C609&ssl=1
609
510
asaad.taha
https://sourceitright.us/wp-content/uploads/2020/11/Source-It-Right-new-Logo.png
asaad.taha
2022-10-03 20:52:56
2022-10-03 20:52:58
Bolster EV charging infrastructure to reach net zero